Back To Our Services
People of Maple Valley are always concerned about the appearance of their houses. This will not include only the interior of the house. The exterior is also important to them, starting with the entrance door and finishing with the driveway gate and fences. Any aspect that is important to the customer is also important to us at our gate repair & installs company in Maple Valley. This is why we are trying to meet the customer's demands; we are talking about simple new installations processes or about complicatedbroken gate repairs. The most important aspect of our work is keeping the customer happy, so we are try our best to always achieve this.
Our gate company gives the best services for all clients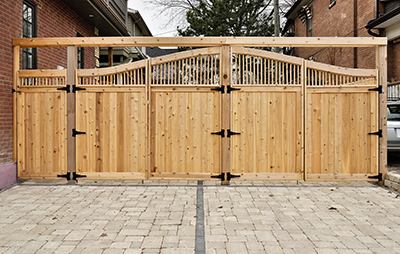 Use all of the security and driveway gate services which we offer with complete confidence in their effectiveness, speed and overall quality. Count on us to provide any kind of repair. We fix absolutely all components from hinges, wheels and chains to iron bars and steel panels. Our technicians are experts in electric operators and their accessories from safety sensors to clicks. If a problem arises, we will resolve it fully in no time. In addition to scheduled repair, we provide swift and effective emergency assistance. Whether there is a need for gate opener installation or intercom installation, we will do the job perfectly in the shortest time. We install entire systems as well. With our maintenance services, the automatic system you have will always be in optimal working condition.
Our driveway gates company can repair and install all types of gate openers and devices using only the latest technologies and the best workers available. Maple Valley Gates Install & Repair is not only another firm trying to make a name in the city; it is a pillar of the community. We are trying to keep our image as an innovative company by offering only the top technologies when we install gates and fences. We understand that an issue could come up any time of the day or night, so our company provides continuous assistance with our 24/7 emergency repair service. This includes emergencies with products that we did not install.
When you need some broken gate repairs or some hinges welded, you can call us with great trust. Everyone, at our gate repair and install company in Maple Valley, is well trained in all areas of gate/fence services. We understand that issues arise without warning and you may suddenly need broken hinge repair or gate track repair. But we are here for you when you need us. In order to give you a complete idea about our capabilities, we also offer other services such as safety gate sensor repair and installation of the exit loop while we can also repair the gate wheels.
As stated before, we are all about satisfying our customers and making them happy. This is why we provide you with installations on gate motor on existing gates and spring gate repair. Our company will do services for both residential & commercial areas. We can do any service no matter how small or how big. Call our company in Maple Valley today and let us help you with all of your gate and fence needs.
We also do a lot of welding services and iron work. So, if you need security doors, cages or retaining walls we can assist you. Pipe corals, doors/gates as well as gates are products we work on every day. We are 2nd generation iron workers and know iron like the back of our hands.
Our gate repair &install company in Maple Valley is the only choice to call if you want the best quality work done at the best prices. We will give you a free estimate on any repair or installation job, so you can make the decision to hire us to do the services for you. If you hire us you will find us to be the most reliable, dependable company in the area.
Back To Our Services